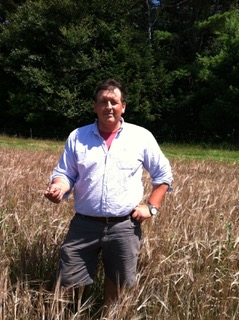 Luke Davidson
Chief Distiller
Maine Craft Distilling
Chief Distiller Luke Davidson was raised in a self-sufficient agrarian Maine community sustained by a barter economy between neighboring farms. In that setting, Luke learned the essence of community and the interrelation between community and agriculture. He dreamed of leveraging his strong sense of the Maine community, his love of agriculture, and his desire to make whiskey. But how?
Luke was building a post and beam barn and musing on long-held dreams with friends when he conceived the seeds of the idea of a farm-to-flask distillery that would become Maine Craft Distilling.
Maine Craft Distilling marries Maine agricultural products to traditional methods, creating unique spirits that combine the terroir of Maine with Luke's perfectionist sense of craft.
We hope that you can taste Maine Craft Distilling's Yankee, can-do approach to life and liquor in every one of our bottles.
At Maine Craft Distilling, we believe that you can TASTE a landscape.
The ingredients that we use in our craft spirits come from the soil of Maine, a place where the elements, landscape and the bounty of our farmer suppliers combine to create ingredients that are truly unique.
100% terroir-driven, we take the great State of Maine and pour it into each and every bottle. We support our farmers, our community, and above all, the creation of real good booze.