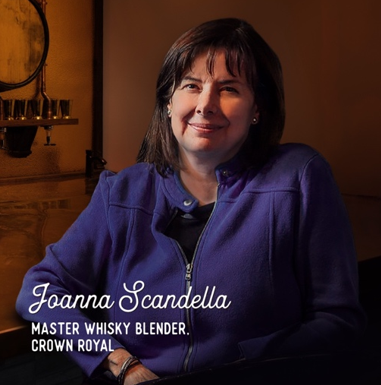 Joanna Zanin Scandella is Diageo's Master Whisky Blender dedicated to Crown Royal, with over 25 years of experience in the spirits industry.
With a B.Sc. in Chemistry, along with experience in the wine and flavor industries, Joanna begin her spirits industry journey with the new product development of flavored spirit beverages.
Over the next 10 years, Joanna broadened her knowledge, focusing on sensory science, quality assurance, and the planning and blending of rum.
These experiences guided Joanna to focusing on Canadian whiskies, in particular the blending of the iconic Crown Royal Deluxe. 
Joanna is passionate about her role, and is very proud to be part of the Blending team which creates the Crown Royal family of whiskies, recognizing it is a privilege to work with great whiskies and great people. 
Joanna lives in the Montreal area and enjoys meeting whisky enthusiasts.